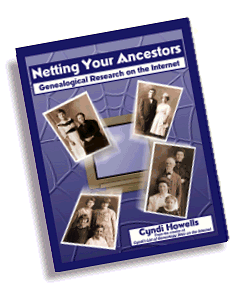 Netting Your Ancestors
Genealogical Research on the Internet
by Cyndi Howells
A book from the owner of Cyndi's List!
Available from
Genealogical Publishing Company
---
"A guide to the future of genealogy"
Netting Your Ancestors is designed not only to show you how to use the Internet in genealogical research but how to take maximum advantage of this extraordinary research tool. Written by genealogist and computer whiz Cyndi Howells, creator of the award-winning web site Cyndi's List of Genealogy Sites on the Internet, it is a guide to the most powerful research tool since the advent of the personal computer. This is no hollow claim, for in bringing resources from around the world right into your home, the Internet makes genealogical research possible on a global scale, in record-breaking time.
With its clear, no-nonsense approach, Netting Your Ancestors answers the most fundamental questions about genealogical research on the Internet: How do I get online? What type of computer hardware and software do I need? What do I do once I'm online? Where do I start? What type of information is available? The answers to those questions, rendered in plain English, will help you to discover genealogical resources and finding-aids beyond your wildest dreams. What's more, you'll be able to communicate with researchers around the world, exchanging data that otherwise might take you a lifetime to find.
To help you get the most out of your online research time, Netting Your Ancestors focuses on the three most useful components of the Internet, each of which is discussed in a separate chapter: E-mail, Mailing Lists and Newsgroups, and the World Wide Web. Within each chapter, sections are devoted to software requirements, guidelines, and the basic workings of each component, along with tips for researchers who have already been online for a while. The last section in each chapter is devoted to research strategies that will benefit both new and veteran online researchers.
The ability to exchange information on a global scale and to explore vast new databases (as well as obscure factoids lurking at the edges of cyberspace) is what genealogical research on the Internet is all about. And in this book, with the aplomb and assurance of a seasoned Internet navigator, Cyndi Howells starts you out on your Internet journey of exploration and discovery, guiding you confidently toward your goal. It's a trip you'll never forget, even though you never leave home.
182 pp., indexed, paperback. 1997. ISBN 0-8063-1546-6, $19.95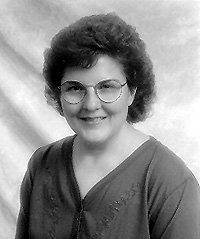 About the author
Cyndi Howells is the owner and webmaster of Cyndi's List of Genealogy Sites on the Internet, http://www.CyndisList.com, a categorized index to over 28,000 online resources. In its first two years, Cyndi's List has twice been voted the best genealogy site on the World Wide Web. It has had over 2 million visitors and has been featured by the History Channel web site and in several publications, including the Newsweek, Yahoo! Internet Life, Family Chronicle and Home PC magazines. Cyndi, a genealogist for over eighteen years, is an active member of and webmaster for the Tacoma-Pierce County Genealogical Society in Washington. Cyndi has been a guest lecturer at various genealogical society meetings and seminars, and is a contributing editor to Heritage Quest magazine.




---
With Cyndi's help, here are a few things you can do on the Internet:

Visit web sites that have searchable databases
Browse through library card catalogs online
Read data posted by other researchers on their personal home pages
Contact people anywhere in the world and receive replies the same day
Use the Internet as you would a bulletin board system and post queries about your research

Find valuable tutorials, helpful articles, and how-to guides
Visit sites with map collections online, directories of useful addresses, genealogical glossaries, dictionaries, etc.
Find vendors online with genealogical products for sale
Download genealogy software demos so you can try out a program before making a purchase
---

The author's web site, Cyndi's List of Genealogy Sites on the Internet, is the most comprehensive list of Internet resources for genealogy available and has been acclaimed by Newsweek magazine, Home PC magazine, and the History Channel.


---

Return to Cyndi's List
people want to know more about Netting Your Ancestors
---
Netting Your Ancestors: Genealogical Research on the Internet
This page created & maintained by Cyndi Ingle Howells,

[email protected]


Copyright © 1997, 1998 by Cyndi Ingle Howells. All rights reserved.
Graphics property of Cyndi Ingle Howells.