2 vols, 1,665 pp. total, 2001. ISBN 0806316780
---
ABOUT THIS BOOK:
Hailed by researchers throughout the world, Cyndi's List is the gateway to Internet genealogy, providing the researcher with more than 70,000 links to every conceivable genealogical resource on the Internet.

For the genealogist, Cyndi's List is nothing short of a phenomenon. It originated just a few years ago with the modest aim of providing the Tacoma-Pierce County Genealogical Society with five or six pages of genealogy web site addresses. From there, Cyndi's List of Genealogy Sites on the Internet, with 1,025 links listed on one page, grew to more than 70,000 categorized and cross-referenced links in more than 140 categories listed on more than 430 individual web pages. The site now has about 80,000 visitors each day, with more than 18 million people having stepped through the front door of the site to date.

By 1999, however, even as it had become a traditional online research tool for people worldwide, the need for a printed version of Cyndi's List had become more and more apparent. Numerous people asked for a printed version of the site to help them prepare in advance for the time they spent doing their research online; and of course a printed version would also be convenient for those who paid for their Internet connectivity by the minute. Libraries and Family History Centers also expressed a need for the printed version of Cyndi's List, since with the book version next to each computer terminal, library patrons would be able to spend their limited time online in a productive manner. Hence the appearance of the first edition of the book version of Cyndi's List!

And to no one's surprise, here is the second edition of Cyndi's List--twice the size of the first edition and twice as helpful, proof of the rapidly increasing interest in Internet genealogy. Like the first edition, it is designed to reduce the time you spend online by narrowing the focus of your search. With the sudden and explosive growth of genealogy on the Internet, the possibilities for research have become almost endless, but Cyndi's List allows you to impose some useful controls on this exciting new phenomenon, turning the vast body of data on the Internet into a manageable research tool, one you can feel, touch, and read even when the power is turned off.
COMMENTS ON THE FIRST EDITION:
"Each web site is categorized into one of more than 100 topics. Each listing contains at least the web site's name and its URL (address). Some sites have a sentence or two describing the information that can be found there. . . . As fast as the Internet is, looking up references in this book is still faster than searching Online." ---EASTMAN'S ONLINE GENEALOGY NEWSLETTER, August 21, 1999

"I tend only to look at those parts of Cyndi's List I'm directly interested in, but this book gives you a much better opportunity to look over the whole site and come across things you never imagined existed. Despite the advantages of the Web, this book is much easier to browse than the Web site . .." --PETER CHRISTIAN, Editor, "Computers in Genealogy"

". . . a great tool to prepare for going online or for advising others. This book should be available in all major genealogical Collections." --FEDERATION OF GENEALOGICAL SOCIETIES FORUM (Winter 1999)

"For the busy librarian who may not have quick and easy access to the Internet, Cyndi's List is an excellent place to look for answers for the genealogical patron. This is an excellent reference tool for electronic Media." --AMERICAN REFERENCE BOOKS ANNUAL (1999)

"This is the printed version of the CyndisList.com Internet web site. Simply stated, this is the ultimate source for links to genealogical information on the Internet." --OHIO GENEALOGICAL SOCIETY REPORT, Vol. 39, No. 4, 1999
AWARDS FOR CYNDI'S LIST:
"Best Genealogy Site on the World Wide Web for 1996."--Readers' Choice Award, Journal of Online Genealogy

"Best Genealogy Site on the World Wide Web for 1997"--Readers' Choice Award, Eastman's Online Genealogy Newsletter

"Best Genealogy Site on the World Wide Web for 1998"--Readers' Choice Award, Eastman's Online Genealogy Newsletter

Selected one of the top 500 sites on the Internet by The Media Metrix 500. "The Media Metrix 500 includes an alphabetized list of the top 500 Digital Media properties, including Commercial Online Service properties, Internet Service Providers and other ad supported services and applications that attract the most 'unique' visitors . . . over the course of one month in a quarter. This list is updated quarterly and contains the top 500 Digital media properties for the month of December 1998."
READERS' COMMENTS:
"I consider this the best site for genealogy because of the great number of links which can take you just about anywhere you want to go."

"Cyndi's List is the first choice for anyone looking for ANYTHING pertaining to genealogy. But the best thing is how she has kept things easy to find on such a huge site! It is the best organized of ANY site I have ever gone to for anything!"

"There is no other genealogy web site that does so much, is maintained so well, and provides one-stop shopping for everything genealogical."

"If I were alone on a desert island with a solar-powered laptop, and I was able to access just ONE web site for the rest of my life . . . I'd choose CYNDI'S LIST."
REVIEWS FOR CYNDI'S LIST:
"There is no better place we know to sample the flavor of the Internet's vast resources then Cyndi's List of Genealogy Sites on the Internet, which consists of alphabetical categories of annotated links."--Yahoo! Internet Life, July 1997

"The biggest boon to the heritage hunt has been cyberspace. No one has been more influential there than Cyndi Howells, a Puyallup, Wash., housewife who became obsessed with genealogy after tracing her own family tree."--Newsweek, February 24, 1997

"Cyndi's List of Genealogy Sites on the Internet--One of the BEST genealogy sites on the planet, well-organized and very easy to use. This one's a must-see!"--The Info Service, June 1997

"Cyndi's List of Genealogy Sites on the Internet: If you can't find it here . . ."--PC Novice Guide to the Web, March 1997

"Cyndi's List has consistently been voted the top genealogy website by visitors voting on Family Chronicle's Top Ten Website List, and it has a mass of other awards." [p. 6] "As most online genealogists already know, Cyndi's List . . . is the Yahoo! of the genealogy world. Cyndi's long-established directory of genealogy websites is popular because of its solid organization and its thoroughness." [p. 51]--Family Chronicle July/August 1998

". . . the site is well-organized and cross-referenced, providing easy access to most key genealogy sites on the Internet for both beginners and experts."--WashingtonPost.com:Web Guide, June 1997
Order Now
2 vols, 1,665 pp. total, 2001. ISBN 0806316780, Item #GPC-2932, $89.95, 1-800-296-6687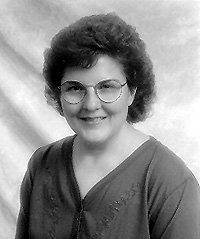 About the author
Cyndi Howells is the owner and webmaster of Cyndi's List of Genealogy Sites on the Internet, http://www.CyndisList.com, a categorized index to over 99,000 online resources. Cyndi's List has three times been voted the best genealogy site on the World Wide Web. Since its inception in 1996, the site has had over 22 million visitors through the front door, and currently more than 32 million page hits to the entire site each month. Cyndi's List has been featured by the History Channel web site and in several publications, including the Newsweek, Yahoo! Internet Life, Family Chronicle and Home PC magazines. Cyndi, a genealogist for more than twenty years, is a member of the Board of Directors for the National Genealogical Society and webmaster for the Tacoma-Pierce County Genealogical Society in Washington. Cyndi has been a guest lecturer at various genealogical society meetings and seminars, and is a contributing editor to Heritage Quest magazine.



---

Return to Cyndi's List
people want to know more about Cyndi's List -- THE BOOK (2nd Edition)!
---
Cyndi's List -- The Book (2nd Edition)
A Comprehensive List of 70,000 Genealogy Sites on the Internet
This page created & maintained by Cyndi Ingle Howells,

[email protected]


Copyright © 1996-2011 Cyndi Ingle Howells. All rights reserved.
Graphics property of Cyndi Ingle Howells.